Have You Tried Tootle Ride?
Have You Tried Tootle Ride?
Is there anyone who hasn't heard the name UBER? The answer would be "No" among those using smartphones and updated to latest technologies. And, if I ask another question: Have you heard the name tootle; then the answer would be "No" for 2 out of 10 less.
What exactly is Tootle?
Using Tootle you can share a ride on two wheelers inside Kathmandu Valley. In other words, you set your pickup & drop location along with time using its android app. You then get to share the ride as per the convenience of the riders passing that route.
According to the company's official page,
Get an easy ride anywhere inside Kathmandu valley. Tootle matches you with bikers that are on your way.
My First Tootle Experience

Yesterday was my first tootle ride and I was impressed by their service.
At first, I was confused whether the app would work or not. But, I received credit of Rs 200 after I signed up, and at that point I felt like trying out the service. Right after choosing my pickup and drop location (for 1/3 of the regular taxi fair and less than the credit awarded), I got a call from one of the tootle riders. I tracked the movement of the approaching rider on the app and I arrived just few seconds before he arrived at the specified pickup location; thus saving some time that would have otherwise been wasted in waiting. And wow, he arrived at my pickup location within 10 min of my booking.
Thanks to tootle, I reached my brother's engagement venue on right time.
One feature I particularly liked is the payment details. I was informed about the amount I'll have to pay for the ride before confirming my ride request.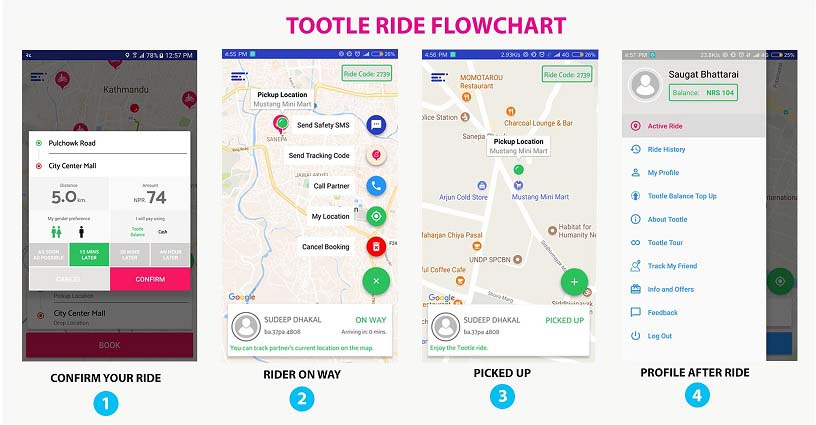 As shown in image 1, you confirm the ride and the payment. After the confirmation you get a call from your tootle partner and confirm the ride and pickup location. You can also track the tootle rider approaching you(image 2).The details (rider name and bike no) is displayed on the screen. Image 3 depicts approaching destination after pickup. You can also view your profile on the app as shown in image 4.
Note: image 1 is taken from tootle official page tootle.today.